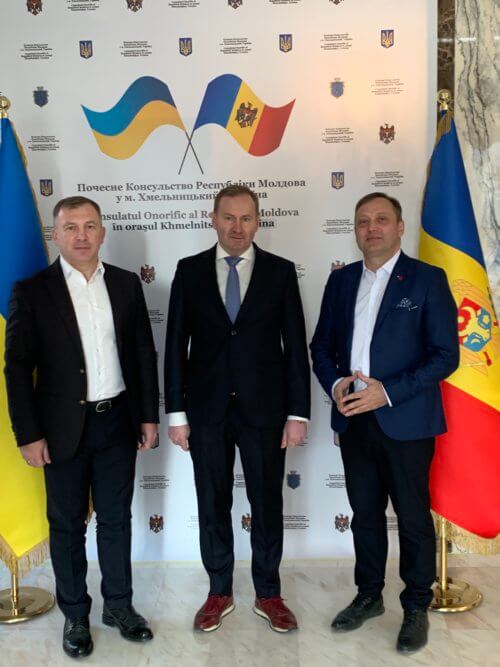 On December 23 Valery Vizant, Honorary Consul of the Republic of Moldova in Kazakhstan, and businessmen from Moldova visited the Honorary Consulate of the Republic of Moldova in Khmelnytsky.
During the conversation international relations of Moldova, Ukraine and Kazakhstan were discussed. Mykola Skrypkovskyi informed the guests about prospective directions of business development in Khmelnytsky region and appealed for investments. Also the question of interaction in tourist, cultural and economic spheres was raised.
Each country has something to offer to others and it is extremely important to participate in such meetings, where we can tell each other about the prospects, potential and benefits of future cooperation – said Skrypkovskyi.
Honorary Consul Valery Vizant shared positive impressions of his stay in Khmelnytsky and expressed interest in further cooperation between the consulates and the countries.
Distinguished guests from Moldova expressed gratitude for the warm reception and supported the initiative of Honorary Consul Mykola Skrypkovskyi on business development in Khmelnytsky region.
The meeting was held in a friendly and relaxed atmosphere. The partners agreed to maintain close ties to achieve their goals.
Mykola Skrypkovskyi thanked the guests for the constructive conversation and congratulated everyone for the upcoming holidays of the New Year and Christmas. He wished good health, abundance, comfort and prosperity.