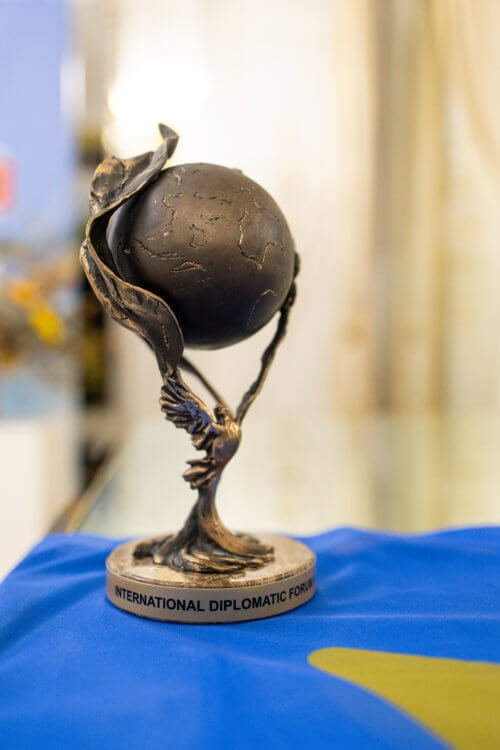 After the visit to the Khmelnytsky OVA, the guests returned to the Honorary Consulate of the Republic of Moldova in Khmelnytskyi where an official reception on the occasion of the Khmelnytsky Diplomatic Forum was held.
The reception was also attended by Bishop Pavlo of Khmelnytskyi and Kamianets-Podilskyi, MP of Ukraine Serhii Mandzii, Advisor to the Head of the Security Service of Ukraine Serhii Gamalii, Head of the Prosecutor's Office in Khmelnytskyi region Oleksii Oliinyk, Head of the Main Department of the National Police in Khmelnytskyi region Ruslan Herasymchuk, Deputy Mayor Mykola Vavryshchuk, Head of the Main Department of the State Tax Service in Khmelnytskyi region – acting Iryna Zlenko, as well as a talented sculptor from Kyiv Mykola Znoba and his family.
The guests were given a short tour of the Consulate and were introduced to interesting art exhibits. The guests had the opportunity to leave notes in the book of honour of the Consulate.
During the discussion of business issues, Mykola Skrypkovskyi stressed the importance of such events for our country at the present time and thanked everyone for their support and interest in the development and promotion of our region.
Later, all the distinguished guests were presented with gifts and treats from Moldova. But the most important event of the day was the presentation of the symbol of the Khmelnytskyi Diplomatic Forum – the statuette "Wings of Freedom of Peace", the Order of Honour and the Honorary Award – STEPHAN III the Great, which were personally handed over by the Honorary Consul of the Republic of Moldova, Mykola Skrypkovskyi.
In the words of Mr Mykola Skrypkovskyi: "My goal remains unchanged – to involve as many diplomatic institutions as possible in cooperation with the Honorary Consulate of the Republic of Moldova in Khmelnytskyi and Khmelnytskyi region, to create a powerful bridge with the involvement of mutually beneficial conditions for business, to advertise and popularise Ukraine, Moldova and, in particular, my native Khmelnytskyi region. To build and develop.
Future plans include holding the third Khmelnytskyi Diplomatic Forum with even more heads of diplomatic missions. After all, this event is an important step in restoring international relations, developing business and creating a favourable image for both the city and Ukraine in the global community."
In conclusion, we would like to express our sincere gratitude to the Ambassador Extraordinary and Plenipotentiary of the Republic of Moldova to Ukraine, Valerii Chieveri, and the CEO of Royal Palace TM, Anna Marchuk, for their support in facilitating the organisation of this event.
We would also like to thank our defenders, the Armed Forces of Ukraine, for the opportunity to hold such events at this time, because only together, by protecting, strengthening and developing our country, we will achieve success and victory.
Glory to Ukraine!