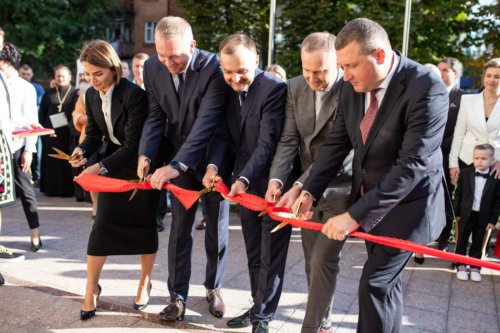 On September 3, the Honorary Consulate of the Republic of Moldova in Khmelnytsky region was solemnly opened. The diplomatic institution is located on Volodymyrska street, 74 in the center of the city.
The opening ceremony began with the performance of the National Anthem of the Republic of Moldova and the National Anthem of Ukraine, followed by the words of welcome by the Moldovan Ambassador Extraordinary and Plenipotentiary in Ukraine Ruslan Bolbocean, State Secretary of the Ukrainian Foreign Ministry Oleksandr Bankov, Head of Khmelnytsky Regional State Administration Sergiy Gamaliy, Head of Khmelnytsky Regional Council Violeta Labaziuk and Honorary Consul of the Republic of Moldova in Khmelnytsky region Mykola Skrypkovskyi.
The participants of the event expressed confidence that it was a good sign, demonstrating the prospects of strengthening relationships and cooperation in various fields, and the Honorary Consulate will be an additional channel of communication between the Republic of Moldova and Ukraine.
The congratulatory speeches were followed by a solemn cutting of the ribbon.
Accompanied by high ranking officials Ambassador Ruslan Bolbocean and Honorary Consul Mykola Skrypkovskyi presented the sculpture of Stefan III the Great – one of the greatest leaders of Moldavian principality, who was the head of it for 47 years. The author of this work is a famous sculptor, member of the Union of Ukrainian Artists Mykola Znoba.
Mr. Ambassador handed Mykola Skrypkovskyi Consular Exequaturatur and seal, and made a memorable entry in the Book of Honorary Guests.