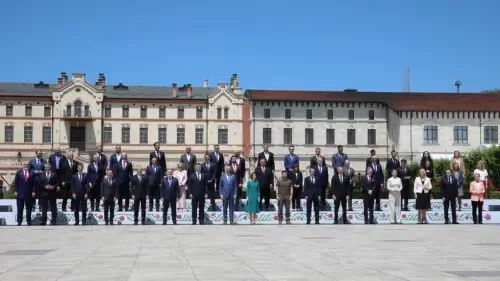 On June 1, the second summit of the European Political Community was held in Moldova, where the leaders of 50 EU member states and other states meet. Security and energy issues are among the priority topics of discussion.
In addition to the official representatives of the leaders of 50 countries, the leadership of the European Union also arrived in Moldova. This is the largest event on the territory of Moldova since its independence.
President of Ukraine Volodymyr Zelenskyy was also present at the summit.
"Dear President Volodymyr Zelenskyi, we admire the Ukrainians for the fact that they have shown incredible strength in the defense of the homeland and international law," reads the address of the President of Moldova, Maya Sandu.
She also noted that Moldova stands in solidarity with Ukraine and Zelenskyi's efforts to restore peace.
"You have a reliable partner – Moldova, on which you can rely," – assured Maya Sandu.
Speaking at the press conference following the results of the summit, Maja Sandu noted that today's event showed that together European countries can make the continent safe.
"Today, 20 km from the border with Ukraine, we were able to gather the entire continent to demonstrate our unity. And we will be together with Ukraine for as long as it takes," concluded the President of Moldova.