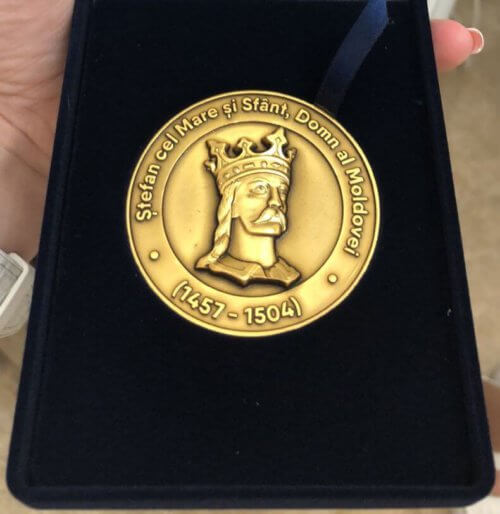 THE AWARD OF THE HONORARY CONSULATE OF THE REPUBLIC OF MOLDOVA
IN KHMELNYTSKY
It is awarded to persons who contributed significantly in strengthening the global reputation of the Republic of Moldova and the consolidation of the Ukrainian-Moldovan interstate, economic, scientific and socio-cultural relations, as well as with assistance of the Honorary Consulate of the Republic of Moldova in Khmelnytsky.
Founding date: September 3, 2022.
Stefan III the Great distinction is awarded for achievements in the fields of cultural, economic, expert, scientific, educational, sports, digital diplomacy; for an outstanding contribution to the popularization of the Republic of Moldova.
The award can be given both to citizens of Ukraine and foreigners, as well as legal entities registered in Ukraine or foreign countries, which, using their experience, credibility and professional knowledge, promoted the Republic of Moldova worldwide and helped to ensure a sustainable development of the Ukrainian-Moldovan relations.
THE RIGHT TO AWARD Stefan III the Great distinction is granted to the Honorary Consul of the Republic of Moldova in Khmelnytsky.
The motto of the honorary distinction Stefan III the Great is "Amemus patriam, posteritatis gloriae inservivamus!" ("Love the Motherland, and work for the glory of posterity!")
DESCRIPTION of the Stefan III the Great Award
On the obverse of the distinction is depicted outstanding Moldavian voivode Stefan III the Great (Stefan cel Mare). Thanks to his military, political and diplomatic talents, the Principality of Moldavia was not only able to maintain its independence, but also became a significant force in Eastern Europe. The building of the Honorary Consulate is carved on the back of the award.
It symbolizes the desire to follow the course of Stefan III the Great for the prosperity of the independent Republic of Moldova, mutually beneficial and friendly relations with neighboring countries, especially Ukraine.
Manufacturing technology – double bas-relief stamping
Images and inscriptions are in relief
Material – brass
Plating – gilding
Size – 60×3 mm.