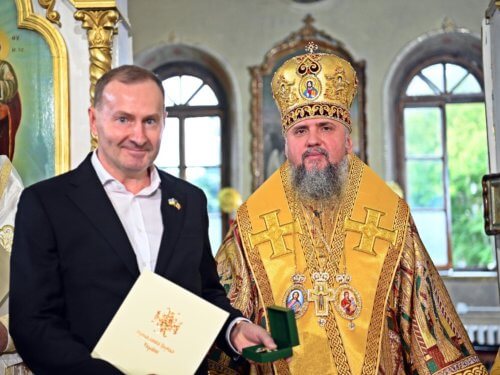 On 15 October, I was honoured to attend a prayer service at the Holy Protection Cathedral in Khmelnytskyi together with the community of Khmelnytskyi region, led by the Primate of the Orthodox Church of Ukraine, Metropolitan Epifaniy of Kyiv and All Ukraine.
After the service in the cathedral, His Beatitude Epifaniy presented me with the highest award of the Orthodox Church of Ukraine – the Order of the Holy Equal-to-the-Apostles Prince Volodymyr, III degree. My sincere gratitude, Glory to Ukraine!
After the liturgy, the Metropolitan of Kyiv and All Ukraine visited the Honorary Consulate of the Republic of Moldova in Khmelnytskyi, where he made an entry in the book of honoured guests and presented a new edition Bible with his signature. As a sign of gratitude and high respect, I had the honour to present His Beatitude Epifaniy with a painting by a Khmelnytsky artist and gifts from Moldova.
This wonderful day, filled with spirituality and friendship, will remain in my heart forever. May the prayers of the Primate and the entire Ukrainian people help bring peace and tranquillity to our land, may the holy prayer protect every Ukrainian defender and bring blessings to those who have dedicated their lives to serving our country.
With faith in victory!
Glory to Ukraine!