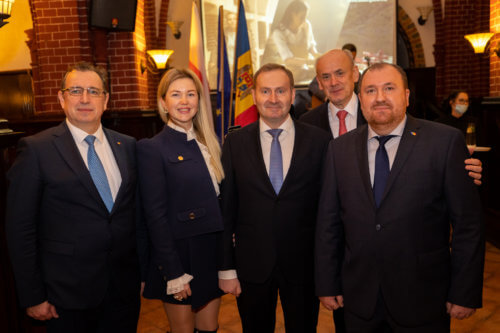 On November 9, in one of the major Polish cities, the historical capital of Western Pomerania, Szczecin, there were held ceremonies to mark the 30th anniversary of the official recognition of Moldova's independence by the Republic of Poland. The event took place simultaneously with the celebration of the Days of Moldova in Szczecin, organized by Honorary Consul of the Republic of Moldova in Szczecin Alexander Laskaver.
At the invitation of Alexander Laskaver the festivities were attended by the Honorary Consul of the Republic of Moldova in Khmelnytsky Mykola Skrypkovskyi and the Honorary Consulate Secretary Anna Marchuk. Mykola Skrypkovskyi thanked Alexander Laskaver for the opportunity to share the celebration in such a friendly and multinational circle.
"Poland, Moldova and Ukraine are not only close neighbors, but also good friends. Our nations are united by strong cultural and historical roots" – Mr. Skrypkovskyi emphasized. "As representatives of foreign countries, we help to establish their relations in general, as well as constructive interaction between honorary consulates and outline new ways of our cooperation."
Among the guests of the celebration were also Igor Bodiu, Moldovan Ambassador to Poland, Octavian Berzan, First Secretary of the Embassy of Moldova, Zbigniew Bogutski, West Pomeranian Voivode, Bogumil Rogowski, President of the Business Club of Szczecin, consuls of the Consular Corps in Szczecin, Consuls from Szczecin and Gdańsk, representatives of the Szczecin Municipal Office, Pastoral Service, Caritas, Pomeranian Medical University and Szczecin University, as well as invited policemen, judges, lawyers, businessmen, representatives of the Moldovan Diaspora and journalists.
The celebration was held in a friendly atmosphere, accompanied by live music and warm communication, and the films about  economic development of Moldova were screened. Guests of the festival were treated with delicious traditional Moldavian cuisine.