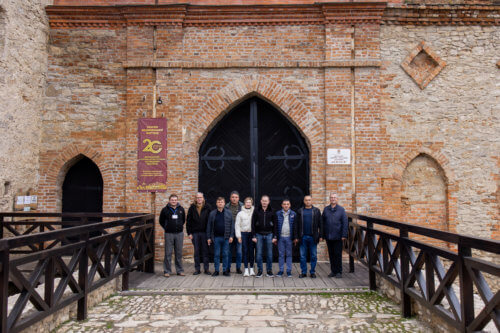 The second day of the Khmelnytsky Diplomatic Forum, not the official part.
On 4 November, at the invitation of the Honorary Consul of the Republic of Moldova in Khmelnytskyi Mykola Skrypkovskyi, distinguished diplomats from different countries visited the historical and cultural site of Medzhybizh.
The diplomats had the opportunity to deepen their understanding of Ukraine's multilayered history by visiting the valuable architectural gem that is Medzhybizh Castle, as well as to touch the past by visiting the Historical Museum and the Museum of Holodomor Victims. The tour was personally led by the director of the State Historical and Cultural Reserve "Medzhybizh" Oleg Pogorelets, who shared interesting facts and unique features of each object.
This journey through time not only revealed Ukraine's historical treasures to officials from other countries, but also developed a deeper understanding of the significance of national heritage and its contribution to world culture. Such an excursion carries a patriotic charge, contributes to the formation of national pride and emphasises the importance of such cultural exchanges.
May every step along Medzhybizh for our distinguished guests become not only a journey into the past, but also an inexhaustible source of inspiration for further relations and cooperation between our countries.
Thank you, my friends, for your interest in learning about the history of my native land.
Glory to Ukraine!