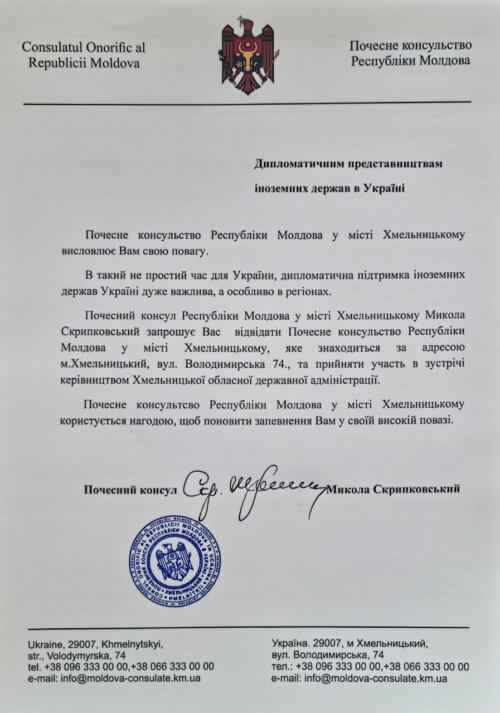 The Honorary Consulate of the Republic of Moldova in the city of Khmelnytsky continues to work and provide comprehensive support to both foreigners and Ukrainian citizens. We did not close our door even during the first days of military aggression of russia against Ukraine.
The Honorary Consulate is in constant search for solutions to stop the aggressor and cessation of hostilities, as well as to help Ukraine, Khmelnytsky region and citizens in need.
Honorary Consul Mykola Skrypkovskiy has held many meetings with representatives of foreign countries regarding assistance to our citizens abroad, humanitarian aid and dissemination of truthful information about the events taking place on the territory of our state today.
Understanding the difficult situation, it was decided to involve all diplomats who are ready to help and support the Ukrainian people at this difficult time. That is why on behalf of the Honorary consul Mykola Skrypkovskiy the letter of invitation was sent to embassies of 44 countries, which are represented in Ukraine, with the offer to visit Khmelnytsky region and hold meetings with the leadership of the region. We seek the support of the international community and to draw attention to the war crimes of the aggressor country. The forthcoming talks will also raise issues of humanitarian aid, which is already being provided by many countries of the world.
We believe that by joining our efforts we will definitely achieve our goal.