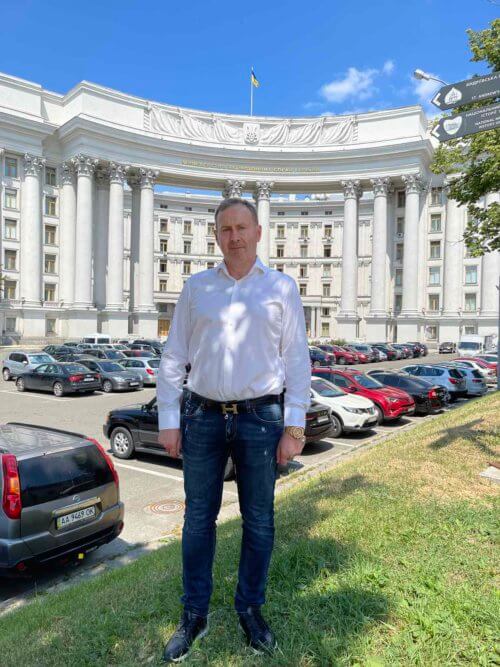 Dear diplomats and employees of diplomatic institutions!
On behalf of the Honorary Consulate of the Republic of Moldova in Khmelnitsky and on my own behalf I congratulate you on the Day of Ukraine Diplomatic Service Employees!
In the modern world diplomacy's role at the international arena is decisive and civilized countries consider diplomatic relations as the fundamental mechanism of interstate communications. A professional diplomatic corps is a great asset and a strategic resource for any country that strives to be a subject of international politics. Successful work of a diplomat enhances a state's prestige internationally, strengthens ties with other countries and contributes to the development of society as a whole.
The hybrid war currently waged by Russia against our state requires the mobilization of all our political and diplomatic resources. Today's challenges oblige us to pursue a clear, balanced and understandable foreign policy for our partners. Ukrainian diplomats have a complicated mission of communicating Ukrainian position to the international community and, at the same time, debunking enemy propaganda myths.
Within all the platforms available to us, Ukrainian diplomats are doing a truly Herculean job. Numerous projects between Ukraine and our Western partners testify to these efforts and the effectiveness of our foreign policy. Signing of any important interstate agreement or implementation of any joint project is preceded by long, laborious and difficult work of diplomats. The imposition of international sanctions on the terrorist State was made possible by the brilliant diplomatic work of the Ukrainian diplomatic corps.
I express my gratitude to all Ukrainian diplomats and diplomatic staff for their high professionalism and effective work in extremely challenging conditions for our country.
I wish everyone Victory, peace, good health and further professional achievements.

Honorary consul of the Republic of Moldova
Mykola Skrypkovskyi