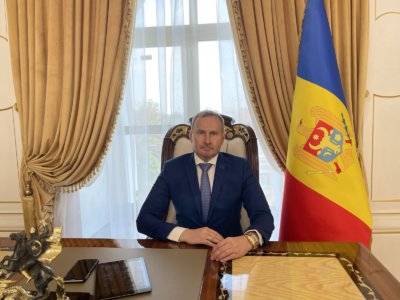 I sincerely congratulate you on the most important state holiday of the Republic of Moldova – Independence Day!
It is a holiday of all citizens' national pride, a holiday of freedom and unity.
31 years ago, on August 27, Moldova's Parliament adopted the Declaration of Independence, based on the decision of the Great National Assembly held in Chisinau.
The figure of Stefan III the Great, an outstanding voivode, and the symbols of statehood became the basis of your identity and a faithful pointer on the road to prosperity.
The tangible results achieved in Moldova's democratic transformation and structural reforms have been a guarantee of its international prestige.
Independence of both our countries is the result of many generations' efforts, a hard-earned value which Ukraine and Moldova defend even today. It is our duty to those who fought for independence. It is the pledge of our children's happy future.
Three days apart, Ukraine and Moldova are celebrating their 31st year of independence.
We have understood the value of our own voice, we have not accepted autocracy and dictatorship, we have not allowed our freedom and our place in the Free World to be taken away.
We appreciate all the support and assistance provided by the Republic of Moldova to Ukraine in defending its sovereignty and territorial integrity, and its reliable ally in overcoming both present and future challenges.
Ukraine and Moldova share not only a border, but also centuries-old spiritual, cultural and historical roots, shared values, common interests and aspirations, meaning a common path towards a successful tomorrow.
And I am confident of the fact that Ukrainian-Moldovan relations of friendship and strategic partnership, based on mutual respect and trust, will continue to comprehensively develop and deepen, strengthening the foundation for our common future in a single European home. The educational, scientific, and cultural dialogue between Ukraine and Moldova will promote the dynamic development of our countries.
New expectations and hopes are ahead. May they come true. May your state be enriched, may your achievements steadily grow, and may the spirit of patriotism and incredible ability to consolidate all the people in a difficult moment be an example for other countries.
I sincerely wish you peace, prosperity, well-being and tangible achievements for the benefit of your Motherland!
May the independent and free Republic of Moldova live and prosper!

Honorary consul of the Republic of Moldova
Mykola Skrypkovskyi