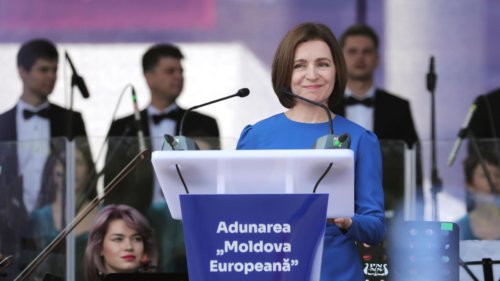 President of Moldova Maia Sandu spoke at the "European Moldova" meeting: "We are at the Great National Assembly Square to firmly say that Moldovans have chosen the European path!"
Maya Sandu also greeted the audience from the stage: "Glory to Ukraine!".
During the speech, the president condemned the war of the Russian Federation against Ukraine. Sandu delivered a speech in Ukrainian, in which she expressed support and solidarity with the people of Ukraine.
Sandu addressed the country's national minorities in Russian, Ukrainian, Gagauz and Bulgarian languages, urging them to support the current foreign policy course.
The country's leader emphasized: "Moldova has had a hard time breaking away from the past, in which it was too dependent on the Kremlin, and now loo
The chairman of the European Parliament, Robert Metsol, was present at the rally. She supported the course of the Moldovan leadership and expressed hope that the negotiations on Moldova's accession to the EU will begin in 2023.