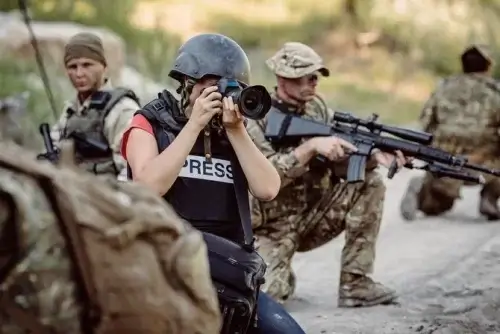 Today is the professional holiday of our military journalists! These are brave and strong-minded people, professionals in their field, who are next to our soldiers in the hottest places of resistance to the invader. Since the very beginning of the armed aggression of the Russian Federation, they have been informing the public about the real state of events on the military front, risking their health and lives. Also on this day we bow our heads and remember those who gave their lives for Ukraine.
Since the beginning of the Russian aggression in 2014, military journalists have been starting, constantly filling, and then ending Ukraine's news day with breaking news. They do everything possible to prepare operational and reliable information for the public about what is happening at the front. Thanks to you, the world knows the truth!
Every citizen must understand today what scale of threats Ukraine must face. That is why the level of trust in military journalists has been very high since the first days of the war. Today, we are able not only to respond to the information attacks of the enemy, to analyze the historical and geopolitical causes of current events, but also to win the operational initiative, to be ahead of the curve in the media field.
Ukrainian military journalists have repeatedly proven that, like Ukrainian soldiers, they are capable of heroic deeds and self-sacrifice in the name of Ukraine's bright future.