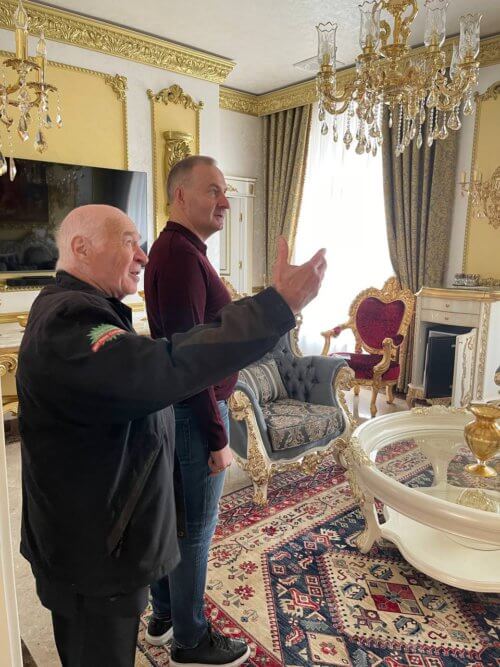 On this special day, I would like to extend my sincere congratulations to all Ukrainian artists, creators of beauty and grace, who inspire and make our lives brighter and more colourful with their work.
In difficult times, your work becomes not only an expression of aesthetic ideals, but also a source of hope and moral strength for the whole society. We are sincerely grateful to our defenders of the Armed Forces of Ukraine, who make it possible to live, work and create for our artists.
On 7 October, the Honorary Consulate of the Republic of Moldova in Khmelnytskyi was visited by a special guest – artist Vladimir Gladun. His works decorate the rooms of the Consulate, the conference hall, as well as the Royal Palace Luxury Hotel & Spa, Royal Palace Restaurant & Cafe and Royal Palace Ozerna. In total, there are about 150 works.
The paintings of this talented artist, which I collect at home and have repeatedly presented to important people, have become an invaluable asset and have found their place in countries such as Poland, Turkey, Pakistan, the UAE, Bulgaria, Moldova and Germany.
Volodymyr Gladun, an artist from the Khmelnytsky region, continues to create masterpieces of art even at the age of 78. During a tour of the Consulate and at the end of our meeting, I personally awarded him the Stefan III the Great Award of Honour for his outstanding talent and contribution to the arts.
Your work has become an integral part of the cultural wealth of our region. I wish you, Vladimir Pavlovich, boundless inspiration, long life and success on your creative path.
I thank all the artists of our country for their contribution to the development of culture and for your important role in creating the beautiful face of our country. May your work always find recognition and love.
With great respect,

Honorary consul of the Republic of Moldova
Mykola Skrypkovskyi