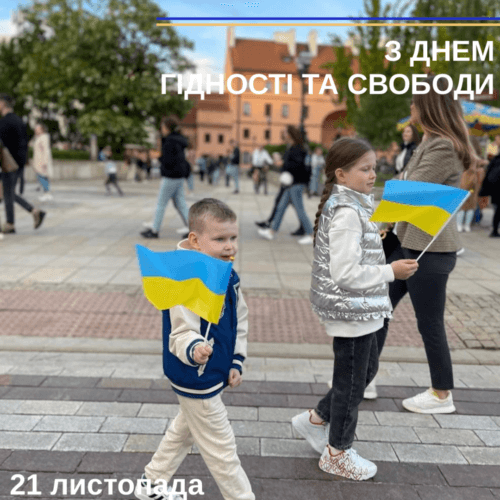 November 21 is the Day of Dignity and Freedom, a holiday symbolizing the struggle of the Ukrainian people for their right to dignity and freedom. This date marks the beginning of the Revolution of Dignity, which is associated with the beginning of two revolutions, 2004 and 2013, and has become a symbol of the liberation movement.
On this day, we remember those who stood on the Maidan, standing for dignity and European values. People united, expressing their strong desire to live in a free and fair state. The Day of Dignity and Freedom is a symbol of our struggle and victory for the right to a dignified life.
Let this holiday be a reminder of the importance of each individual and his dignity. Ukraine continues to walk the path of freedom and dignity, despite all the trials.
In these difficult times, Ukrainians showed extraordinary strength and firmness, fighting for their country, for its territorial integrity and independence. The dedication and strength of the Ukrainian people should be honored, and their efforts should be considered a bright example for others.
On the Day of Dignity and Freedom, we recognize that dignity and freedom are the most important values ​​that we respect and are ready to fight for. Let this holiday strengthen our determination to build a modern, dignified and free Ukraine.
Glory to Ukraine!
With deep respect for the heroes of the past and modern defenders of Ukraine,
Honorary Consul of the Republic of Moldova Mykola Skrypkovskyi