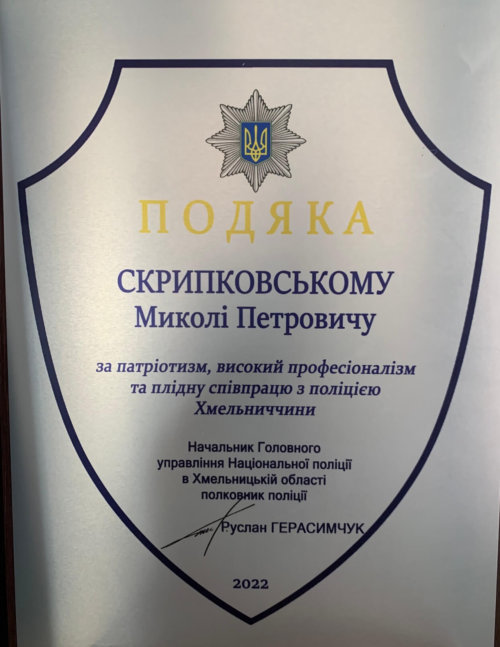 On the 4th of July the Day of the National Police was celebrated for the seventh time. This year it is not the same as the previous ones, because police officers are on duty during the war.
The police provide law and order in the rear, some police officers perform tasks in the areas where there are active military operations and at the liberated territories, others document the war crimes of the occupants.
In the Main Department of the National Police in Khmelnytsky region there were festivities. The best law enforcement officers of Khmelnytsky region were awarded with orders, medals, diplomas and letters of commendation.
At the invitation of Ruslan Gerasymchuk, the head of the SSEP in Khmelnytsky region, the Honorary Consul of the Republic of Moldova in Khmelnytsky Mykola Skrypkovskiy took part in the event.
"Today I sincerely wish the police victory and peace for all of us, prosperity and harmony for everyone in their families. As all citizens, I heartily thank you for the dignified performance of your official duties. Glory to Ukraine!" – noted Mr. Skrypkovskiy.
The Head of the National Police Main Department expressed gratitude to the Honorary Consul for his help and support. He awarded Mykola Skrypkovskiy gratitude for his patriotism, high professionalism and effective cooperation with the police of Khmelnytsky region.