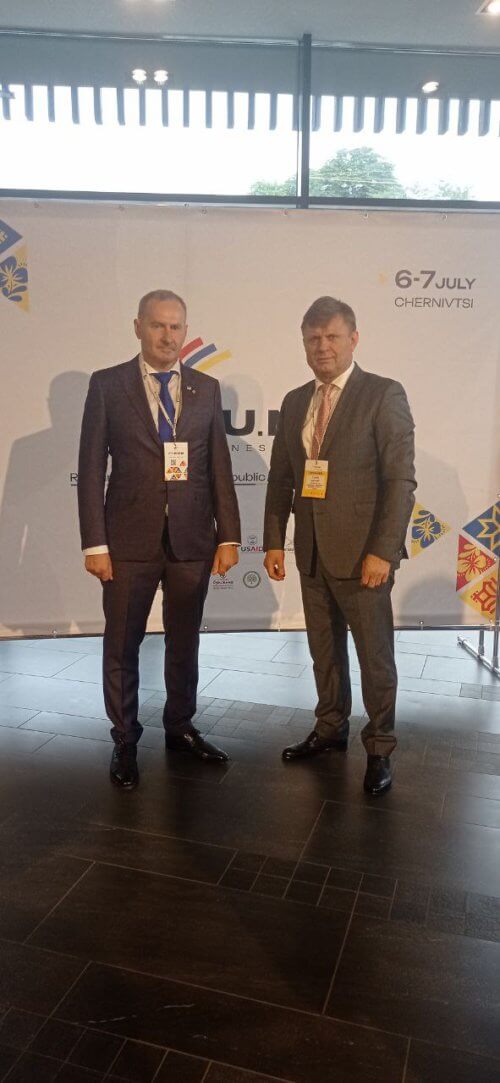 On July 6-7, at the invitation of the Honorary Consul of the Republic of Moldova in Khmelnytskyi, Mykola Skrypkovsky, took part in the Ukrainian-Romanian-Moldovan business forum in Chernivtsi, dedicated to tripartite European partnership in the field of regional economic cooperation, implementation of infrastructure projects, strengthening of legislative base, attraction of investments, promotion of exports and tourism. Chambers of Commerce and Industry of the Republic of Moldova, Romania and Ukraine, officials and many businessmen of the three countries, representatives of European institutions and the economic press took part in the event.
In his speech at the Forum, the Ambassador Extraordinary and Plenipotentiary of the Republic of Moldova, Valeriu Kiver, emphasized that the strength of the European Union is in its regions, and in this sense, the three neighboring and friendly states will act energetically to develop important connections with European infrastructure, increase trade turnover and improve regulatory framework of the business community. Trilateral cooperation will contribute to the expansion of the welfare zone, ensuring security on the eastern borders of the European Union and expanding people-to-people contacts.
During meetings with the Chairman of the Chernivtsi State Military Administration Ruslan Zaparaniuk and the Chairman of the Chernivtsi Regional Council Oleksiy Boykо, the Ambassador emphasized that the adaptation of legislation to EU norms, the resolution of issues left over from the past, and the restoration of the contractual and legal basis of bilateral cooperation will improve cooperation between the three states and with the EU, including through the European Neighborhood and Partnership Instrument.
While in Chernivtsi, the Ambassador Extraordinary and Plenipotentiary of the Republic of Moldova, Valeriu Kiver, honored the memory of the genius of national literature, Mihai Yeminescu, and had an informal conversation with representatives of the diaspora and regional business.