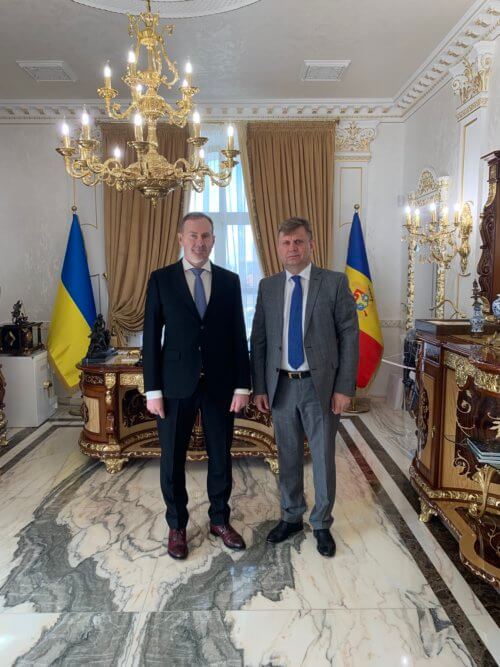 On March 25 the Ambassador Extraordinary and Plenipotentiary of the Republic of Moldova in Ukraine, Valeriu Civier paid an official visit to the Honorary Consulate of the Republic of Moldova in Khmelnytsky.
This is the first visit of the Ambassador to Khmelnytsky since he was appointed to this high post by the Moldovan government. Honorary Consul Mykola Skrypkovskiy congratulated Valeriu Civier on this event and expressed confidence in the future productive cooperation.
At the meeting Skrypkovskiy reported about the peculiarities of the consulate during the difficult time of military aggression of russia against Ukraine. The questions of interaction with diplomatic institutions for assistance to the IDPs in the territory of the Republic of Moldova were discussed.
Valeriu Civier wished the consulate further success in its work and emphasized that Moldova is a friend and a reliable partner of our state that will continue to support Ukraine and its citizens in difficult times of war.
The conversation was constructive, and the meeting was held in a friendly and relaxed atmosphere.
Mr. Ambassador expressed his gratitude for the warm welcome and made a memorable entry in the Book of Honorary Guests of the consulate.