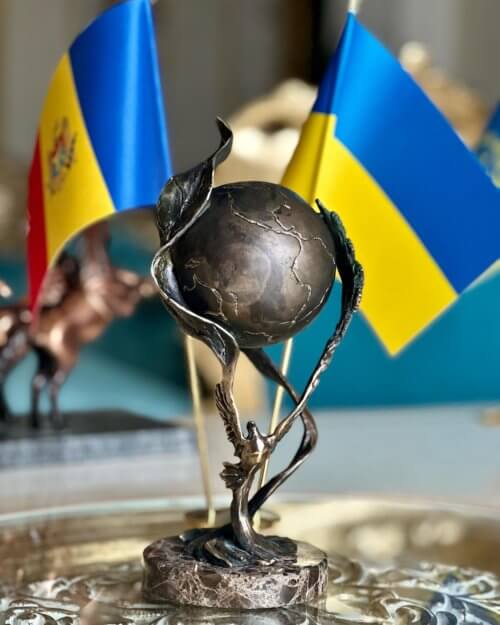 Very soon, on October 6-7, 2023, Khmelnytskyi will meet the heads of foreign diplomatic missions in Ukraine for the second time.
This will already be the second largest simultaneous visit in the entire history of Khmelnytskyi by so many heads of foreign institutions. Such events are extremely important for our country, especially at the present time, support of foreign diplomats, plans for future cooperation, planned long-term projects, development of the city and popularization of Moldova and Ukraine.
I want to present to you the symbol of Khmelnytskyi – Diplomatic
"WINGS OF FREEDOM AND PEACE"
My thoughts and ideas were brought to life by the talented family of sculptors known all over the world – Mykola Znoba, and the skillful hands of the artist and the soul of his wife Veronika made them a reality. And so, we have a unique result of working in bronze.
Everything great begins with small things, and it is possible that over time Khmelnytskyi will become a small but powerful diplomatic center.
Thanks to Valery Kiver, Ambassador Extraordinary and Plenipotentiary of the Republic of Moldova to Ukraine, who supports and helps.
Glory to Ukraine!


Always with YOU, Honorary Consul of the Republic of Moldova in the city of Khmelnytskyi Mykola Skrypkovskyi.