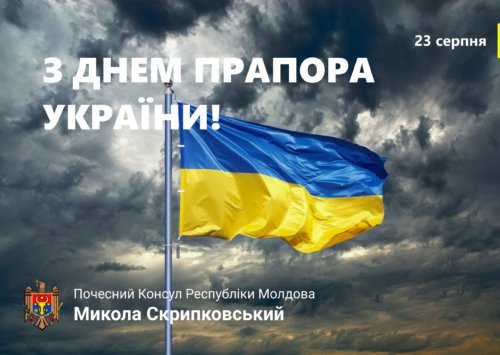 Our blue-and-yellow flag is a real symbol for strength and invincibility of the Ukrainian people.
For this flag the glorious sons and daughters of Ukraine at different times gave their freedom, health and even lives. Under this flag, generations of Ukrainians fought for their desired independence. Under this flag, the struggle for our European future unfolded during the Revolution of Dignity.
Today the blue and yellow flag over the positions of our defenders symbolizes the Victory in the War for Ukraine. Throughout the world, our flag is a symbol of a nation defending freedom and independence.
Looking at this flag, we remember and respect the courage of UPA warriors, heroes of the national liberation struggle of all times, the unbending spirit of those who fought and are fighting to save the state now.
I congratulate all those who have Ukraine in their hearts on National Flag Day!
I am proud to be a Ukrainian!
Glory to Ukraine!

Honorary consul of the Republic of Moldova
Mykola Skrypkovskyi