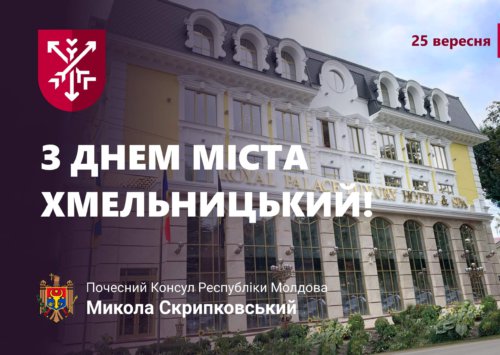 Every year Khmelnytsky is developing and becoming more modern, while maintaining the unique charm of the city with a glorious history, where the magic of love and good reigns.
590 years – an age when much has been lived and gained. You already have your traditions, experience and the strength to strive for something new. It is the age of responsibility and confidence. All this the city has received thanks to its inhabitants – the citizens.
The Honorary Consulate of the Republic of Moldova will make maximum efforts on popularization of Khmelnytsky abroad. I aspire that our city and the region as a whole will get new possibilities for economic and cultural development thanks to close interaction with the Republic of Moldova.
On my own behalf and on behalf of the whole REPUBLIC OF MOLDOVA I congratulate citizens on the Day of Khmelnytsky! I wish Khmelnytsky prosperity and development, great prospects for activity and significant opportunities for growth. And I wish the residents of the city good luck, good health and confidence in the future. Let everyone here be happy and successful in their business.

Honorary Сonsul of the Republic of Moldova
Mykola Skrypkovskyi